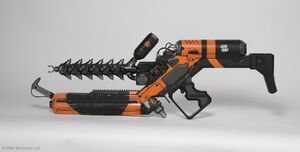 The ARC gun, also referred to as the "Mulcher," is an alien weapon that fires a stream of electricity. Like all alien weapons, it only discharges in the hands of a non-human or a mutated Wikus.
The weapon utilizes highly dangerous protonic current which has a high damage radius and damage capability. Upon direct contact with a biological entity, one hit from the weapon causes the entity to superheat and explode in a violent, swift, and often messy manner. Although a direct hit is the most effective, even minor superficial damage from the weapon can yield fatal results such as horrible burns and even dismemberment.
Wikus used an ARC gun when he and Christopher infiltrated MNU headquarters to retrieve the fuel canister to power the drop ship.
A weapon of similar design is also part of the onboard weaponry of the Exosuit.
The ARC gun is called the AMR-B21 by MNU.
An ARC gun prop was auctioned off on eBay.
Ad blocker interference detected!
Wikia is a free-to-use site that makes money from advertising. We have a modified experience for viewers using ad blockers

Wikia is not accessible if you've made further modifications. Remove the custom ad blocker rule(s) and the page will load as expected.